The Life of a Modern Day Explorer 

Declared one of the "greatest living explorers" by Canadian Geographic, and named "Canada's Indiana Jones" by the Toronto Star, Adam Shoalts is a professional adventurer and the author of four national bestselling books.
His career has included mapping rivers, leading expeditions sponsored by the Royal Canadian Geographical Society and Mountain Equipment Co-op, archaeological digs, tracking endangered species, and completing a nearly 4,000 km solo journey across Canada's Arctic. On his expeditions he sometimes goes months without seeing another person.
Shoalts grew up with a forest on his doorstep, where his father, a woodworker, taught him about trees. Together, they built birch bark canoes, paddles, and anything else that could be crafted from the forest.
Shoalts has written about edible mushrooms, deforestation, and watershed pollution in northern Canada. His writing career began with his "Reflections of a Naturalist" column on wild animals and conservation issues, which later led to his #1 national best-seller Alone Against the North, the award-winning story of his adventures.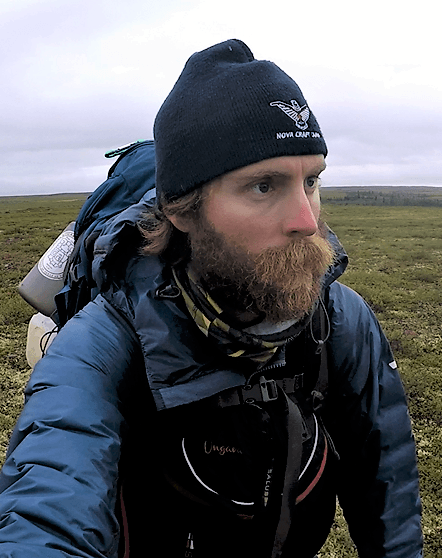 Next to the woods, Shoalts second favourite place growing up was the library. If he wasn't exploring forests he was exploring books. He graduated from Brock University, where he was named top student in the Humanities, and then completed a Master's degree and PhD at McMaster University, where his research combined an interest in nature, history, archaeology, and geography. He has since done archaeology in four countries.
Shoalts is a frequent guest on television, and his work has been featured in media around the world, including the BBC, CNN, CTV, CBC, Reader's Digest, the Washington Post, The Guardian and many others. In 2016, Shoalts was named a national champion of the Trans-Canada Trail and in 2018 Explorer-in-Residence of the Royal Canadian Geographical Society. In 2021, he was asked by the Writers' Trust of Canada to serve as a judge for Canada's largest nonfiction book award, the Weston Prize.
Shoalts has a particular concern for preserving wild places and has been involved with many conservation organizations. In 2008, he received the Niagara Region's environmental award for his work on local watersheds. When not on expeditions, Shoalts is a popular guest speaker.
"One of Canada's greatest modern explorers."—CBC
"Adam Shoalts is Canada's Indiana Jones—portaging in the north, dodging scary rapids, plunging into darkness, and surviving to tell the tale."
—The Toronto Star
"Beyond the Trees is a remarkable tale—and a staggering feat… It's mesmerizing to be guided through Canada's wilderness through Shoalts' eyes…Shoalts also wields a wicked wit…" —Atlantic Books Today 
"Adam Shoalts, 21st century explorer, calmly describes the things he has endured that would drive most people to despair, or even madness. Rare insight into the heart and mind of an explorer, and the insatiable hunger for the unknown that both inspires and drives one to the edge."
—Col. Chris Hadfield, astronaut, International Space Station commander
"Explorer Adam Shoalts's remarkable solo foray…is the kind of incredible effort that fosters legends."   —The Winnipeg Free Press
"Adam Shoalts takes readers across the rugged Canadian landscape…the trek was considered to be a near-impossible feat to achieve on one's own [Beyond the Trees] offers a beyond riveting adventure memoir that'll keep readers hooked until the very end." —CNN
"Adam Shoalts might just soothe your need for adventure…"—Buzzfeed