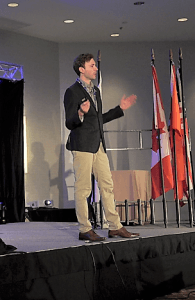 When not exploring, Dr. Adam Shoalts is one of Canada's top public speakers. If you'd like to book Adam for your event, send an email to admin@adamshoalts.com. His audiences have included one-on-one with the Prime Minister of Canada, to keynote addresses at major conferences, fundraising galas, schools, clubs, professional and corporate groups, libraries, non-profits, museums and everyone in between. Adam's talks are inspiring, full of laughs, and feature stunning photographs from his many expeditions.
All of Shoalts' presentations are unique, and he tailors them to audience of all sizes and backgrounds. Many groups have Adam back year after year to hear his latest adventures, and his crowds have ranged from thousands of people to more intimate gatherings.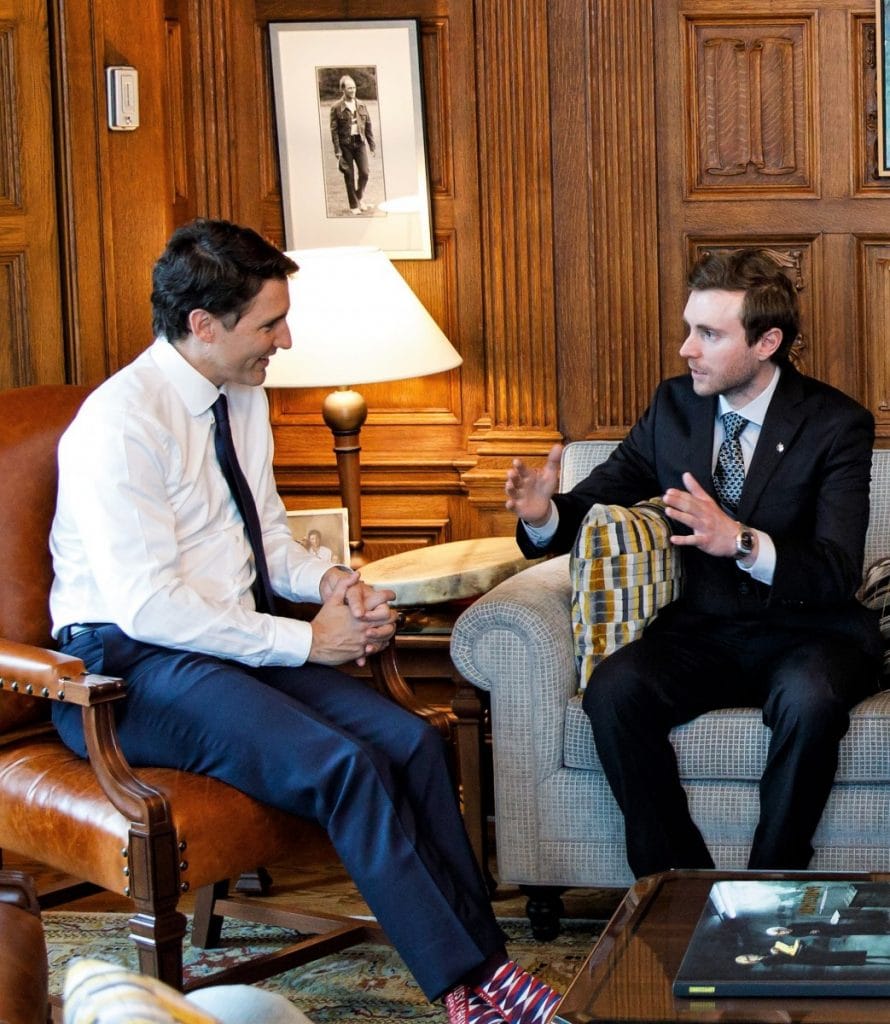 Themes and Presentations
Adam's most popular presentations focus on his expeditions, such as crossing nearly 4,000 km of Canada's arctic alone, but he also frequently speaks about his award-winning books, the environment, and drawing insights from his expeditions, he does presentations on resiliency, perseverance, and overcoming adversity. Adam also speaks about the value of wild places and "unplugging." 
In recognition of his work, in 2016 Adam was named a National Champion of the Trans-Canada Trail, his book Beyond the Trees became a #1 national best-seller, and in 2018 he was named Explorer-in-Residence of the Royal Canadian Geographical Society. A regular guest on television and radio, his work has been translated into numerous languages and featured in media worldwide, including Reader's Digest, CNN, the BBC, the Washington Post, Toronto Star, Globe and Mail, National Post, CBC, The Guardian and many others. Book him for your event. 
Testimonials: 
"One of Canada's greatest modern explorers."—CBC
"Adam Shoalts is Canada's Indiana Jones—portaging in the north, dodging scary rapids, plunging into darkness, and surviving to tell the tale."
—The Toronto Star
"Adam Shoalts takes readers across the rugged Canadian landscape…the trek was considered to be a near-impossible feat to achieve on one's own [Beyond the Trees] offers a beyond riveting adventure memoir that'll keep readers hooked until the very end." —CNN
"Shoalts has done an elegant job of reminding us of the vast and brooding influence of geography on our history." –Globe and Mail
"Explorer Adam Shoalts's remarkable solo foray is the kind of incredible effort that fosters legends." —The Winnipeg Free Press
"Adam Shoalts is a rare breed of woodsman."—The National Post
"Adam Shoalts, 21st century explorer, calmly describes the things he has endured that would drive most people to despair, or even madness. Rare insight into the heart and mind of an explorer, and the insatiable hunger for the unknown that both inspires and drives one to the edge."
—Chris Hadfield, astronaut, International Space Station commander
"Adam Shoalts might just soothe your need for adventure…wonder-filled, a beautiful book."—Buzzfeed
"Modern-day explorer Adam Shoalts…reminds us that our world is full of mystery, possibility and awe." —CBC
"Adam Shoalts . . . [has] finished an incredible journey through Canada's Arctic."–Global News
"Beyond the Trees is a remarkable tale—and a staggering feat… It's mesmerizing to be guided through Canada's wilderness through Shoalts' eyes…Shoalts also wields a wicked wit…" —Atlantic Books