With snow still on the ground, in late April Adam Shoalts and David Tucker headed off to Canada's smallest province, Prince Edward Island, for some saltwater canoeing and exploring.
While the weather was cold, the scenery was spectacular, and although the waters of the Gulf of St. Lawrence were rough, for the most part they were navigable by canoe.
While on the Island, Shoalts and Tucker also paddled a little freshwater, the picturesque Dunk River, a pristine trout stream that flows through the heart of PEI.
On the first of May, with a light snowfall blanketing the ground, the pair embarked from New London Bridge on the Southwest River for some ocean travel. They first canoed the waters of New London Bay, where Shoalts and Tucker examined a 19th century shipwreck washed ashore in a recent storm.
The following day, the pair paddled the rough seas of PEI's north shore, including along Cape Tryon—the highest cliffs on the island. Ironically, exactly sixty years earlier, on May 2, 1947, four fishermen perished in a fierce storm here.
On the anniversary of their tragic deaths, Shoalts and Tucker tested their luck in the very same waters. The water temperature was 34 degrees (F), enough to kill a person of hypothermia in mere minutes.  If the canoe were to capsize, reaching shore would be futile, as the sheer cliffs offer no refuge from the sea.
Shoalts and Tucker, however, managed to canoe the dangerous stretch of water without mishap—likely the only people ever to pull off such a feat at that time of year and in such a small vessel. (An open 16-foot canoe, with no wetsuits either.)
Shoalts and Tucker also explored the shallow waters of Malpeque Bay. There they canoed to a large, completely forested island, located three kilometres offshore. This isle, named Courtin after a Catholic missionary who worked to convert the area's Mi'kmaq people centuries ago, has remarkably remained entirely undeveloped.  It is home to numerous red foxes as well as ospreys.
Shoalts was disappointed he did not have the time to canoe more of PEI, but hopes to return to Atlantic Canada for another adventure.
He recommends PEI as a great canoeing (or kayaking) destination. In the summer months various outfitters offer sea kayaking and canoeing tours. However, a note of warning: canoeing the open waters of the Gulf of St. Lawrence, particulary in early spring when the water temperature is very cold, can be very dangerous.  The sheltered waters of New London Bay and Malpeque Bay are ideal for less experienced canoeists/kayakers.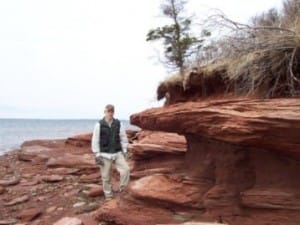 Copyright www.adamshoalts.com 2007.